Sunday, 14 June 2009


Given San Francisco's position as the western terminus of the transcontinental Bat Generation highway it should come as no surprise to find it attracting bohemian elements from across the country. Many of the movers and shakers behind the early San Francisco scene came from Texas, and while some, like Janis Joplin, went on went on to international fame there were others who seemed destined to remain in relative obsccurity.

Rear View: Mother Earth "Living With The Animals"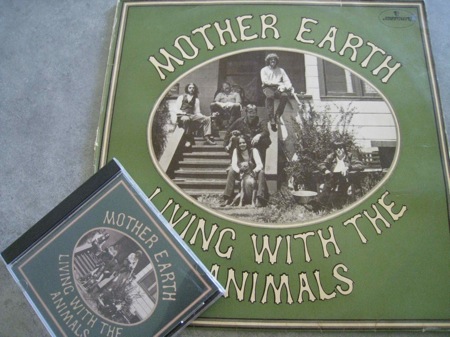 Some albums are almost inextricably linked to the times and the circumstances surrounding the recording sessions.
While it's possible to see elements of
Forever Changes
(undoubtedly, in Hughesy's opinion, the greatest album of all time) in its predecessor,
Da Capo
, the combination of Arthur Lee, Bryan McLean, a mansion in the hills above a burning Los Angeles and the spring and summer of 1967 was very much a one off set of circumstances.
Along the same lines, a combination of Patti Boyd-Harrison, heroin, a writing partnership with Bobby Whitlock and the interplay with Duane Allman's guitar that produced
Layla and Other Assorted Love Songs
wasn't going to be repeated in Eric Clapton's voluminous discography.
And I doubt that Neil Young has felt the need to attempt to replicate the fog of tequila and other substances that surrounded the recording of
Tonight's The Night
and the subsequent tour with the Santa Monica Flyers.
That's exalted company for an album that practically nobody has ever heard of, but
Living With The Animals
by Mother Earth could only have emerged from the particular set of circumstances surrounding the band's stay in San Francisco in 1967-68.
The album cover shows the band gathered on the steps of a building, presumably a San Francisco residence where the members lived, and the album's contents suggest a repertoire that was developed to encompass the work of two quite distinct musical identities.
The album starts with
Marvel Group
, a comic book pastiche by singer/songwriter Powell St. John, who'd been a harp playing beret-wearing beatnik in the University of Texas folk/bohemian music scene and had written material for first two albums by the 13th Floor Elevators before relocating to San Francisco. Along the way, playing at parties and clubs around Austin he'd worked with Janis Joplin in a trio called The Waller Creek Boys.
St John took out writing credits on two other tracks - the album's title track,
Living With The Animals
, and
The Kingdom of Heaven (Is Within You)
- and sings Willie Dixon's
My Love Will Never Die
.
Vocals on the other six tracks on
Living With The Animals
were contributed by Tracy Nelson, who'd arrived in San Francisco from her home in Madison, Wisconsin via Chicago and Texas. Back home in Madison, Tracy had been discovered by Sam Charters, author of
The Country Blues
and
The Bluesmen
and producer of many noted blues albums, including
Chicago: The Blues Today
.
Charters signed her to a recording contract with Prestige, and the result was 1965's
Deep Are the Roots
an album of folk-based country blues with Charlie Musselwhite on harmonica and Peter Wolf on guitar. That may have been the same Peter Wolf who later came to prominence with the J. Geils Band, who seems to have been in Chicago around this time. Tracy also worked with and learned from Muddy Waters, Howlin' Wolf and Otis Span.
While you wouldn't have expected Madison WI to be blues central a folk-blues scene developed there attracting Steve Miller, Danny Kalb, Boz Scaggs, Ben Sidran to the University of Wisconsin. While they were there The University Folk Society brought, among others, Reverend Gary Davis and Sonny Terry to town and attracted the likes Dave
Snaker
Ray,
Spider
John Koerner, Tony
Little Sun
Glover across from Minneapolis and Jesse Colin Young from the wilds of Greenwich Village for gigs and late night jams at The Pad and The Penny University.
Nelson, on the other hand had grown up in Madison and first heard R&B through WLAC radio out of Nashville, a station whose signal was picked up throughout the central South and Midwest, going on to sing folk music in coffeehouses and R&B at fraternity parties. She sang with a full-size soul revue called The Fabulous Imitations with Ben Sidran, three vocalists and the regulation bobbing-and-weaving horn section, polishing her vocal skills on songs by Irma Thomas and other gospel-influenced artists from New Orleans' Minit label. The Imitations may have drawn large audiences, but the combined influence of the Draft and the pressure from academia meant the band's days were numbered.
Back performing solo, Nelson entered a competition staged by Randy Sparks, the entrepreneur behind The New Christy Minstrels, who was developing a new group, The Back Porch Majority. The first prize of $500 and a two-week gig at Los Angeles folk club, Ledbetter's got Tracy to California, but at the end of the fortnight, she was deemed surplus to requirements on the grounds that her singing was
too ethnic
.
From Los Angeles, Nelson moved to Berkeley and worked at Discount Records while she looked for musicians who could fit her repertoire of blues, R&B and gospel, declining an invitation to audition for the Jefferson Airplane (singer Signe Anderson was retiring). Nelson was looking for an environment that would showcase her musical preferences, and she decided that the Airplane's psychedelic acid rock wasn't that environment. She found it in the form of a group of expatriate Texans.
Between 1965 and 1968, the Haight-Ashbury and the East Bay attracted a number of Texans fleeing law enforcement agencies (Doug Sahm and the Sir Douglas Quintet, for example) or the repressive, red-neck culture at home whose musical skills and interests were similar to Nelson's. They included Janis Joplin, Steve Miller, Boz Scaggs, members of Austin's Thirteenth Floor Elevators and Travis Rivers, publisher of
The San Francisco Oracle
, who is generally credited with discovering' Janis Joplin and bringing her to San Francisco.
Impressed with Nelson's singing, Rivers became her manager, and matched her up with musicians from Texas and elsewhere to form Mother Earth, naming the band after the Memphis Slim song Tracy sang at his funeral in 1988.
While Rivers may have been looking for another Janis, Tracy sang with more delicacy than Joplin and drew her material from various genres, blues, R&B, psychedelic, gospel and pop ballads, which the band mixed with Texas-influenced sounds and phrases.
By late 1966 Mother Earth was gigging regularly at the Auditorium, opening for the likes of the Grateful Dead, Jefferson Airplane, Big Brother & The Holding Company, Jimi Hendrix, and Eric Burdon. Their live show was, reputedly, quite a spectacle - Tracy barefoot in a long velvet gown singing most of the lead numbers while Powell St. John sang the others, usually wearing protective headgear made for airport workers.
An appearance on the soundtrack to the 1968 movie
Revolution
(which also featured Quicksilver Messenger Service and the Steve Miller Band) led to a recording contract with Mercury Records, a relative latecomer to the San Francisco music scene.
The line-up that went into the studio included:
Tracy on piano and vocals;
Powell on vocals and harp;
guitarist John
Toad
Andrews and Bob Arthur on bass, two Texans who'd come off a lengthy road tour with Margie Hendrix, one of Ray Charles' Raelettes:
Texan drummer George Rains (who went on to tour and record with Boz Scaggs and Doug Sahm);
arranger and keyboardist Mark Naftalin (from Minnesota via Chicago's Butterfield Blues Band);
a Texas horn section, including Bay Area great Martin Fierro and Link Davis, Jr. (whose father wrote the Cajun classic
Big Mamou
)
and a group of background singers called the Earthettes (including Tracy herself under the name Shalimar Samuelson)
The result was
Living With the Animals
a group effort, combining Tracy's gospel/R&B inclinations with Powell St John's sardonic bluesier material, highlighted by memorable vocals with tight R&B-derived playing.
Side one kicks off with Powell St. John's
Marvel Group
, with violin squeaking away in the background while St John attempts to enlist the aid of
a city full of super-heroes
to aid him in whatever quest he's engaged in. Tracy takes over vocal duties for the album's first show-stopper, the band's theme song
Mother Earth
, cut at the very first session, when Mike Bloomfield mistakenly showed up a day early for a session at the same studio with a different band. For contractual reasons, Bloomfield was credited as Makal Blumfeld which didn't fool too many listeners since the playing's unmistakably Bloomfield.
Coincidence? Unlikely. Bloomfield had known Tracy since the
Deep Are The Roots
sessions, and had worked with Naftalin in the Butterfield Blues Band.
Bloomfield's fills behind Tracy's vocals and piano are finger-lickin' good, and the solo stays in the same territory. Another verse, a piano solo, an around the five-minute mark Tracy's back into the last verse, kicking into vocal overdrive around 5:29 to indicate that the listener isn't listening to your common or garden chick singer.
After that thirty-second-spell of intensity, Tracy's
I Did My Part
, with tasty R&B horns and The Earthettes riffing in the background and Powell's
Living With The Animals
, a
poor boy lost in the big freaky city
number with tasty harp and Spencer Perskin's viola sawing away in the background, lead nicely into Tracy's signature song
Down So Low
, later recorded by Etta James, Linda Ronstadt, Dee Dee Warwick and Maria Muldaur.
Recorded at the same session as
Mother Earth
,
Down So Low
came from Tracy noodling gospel chords and progressions on the piano at home, an intense reaction to the break-up of a relationship with someone who may or may not have been Steve Miller. Slow and soulful with minimal instrumental backing and the Earthettes hovering in the background it's an absolute tour de force that wouldn't fit anywhere else on the album apart from the end of Side One.
The lead track on side two, Allen Toussaint's
Cry On
, launches us straight back into heartache territory. A lovely sax solo from Martin Fierro leads into the last verse with Tracy hitting the high notes once again. After all the heartbreak there's a glimmer of hope in
It Won't Be Long
, since he's coming back
on the 5:03
, before a reaffirmation of faith in Powell's cover of
My Love Will Never Die
, complete with honking horns and tasty lead work from Toad Andrews.
The penultimate number, an oddly-named pleasant piano-driven little groove called
Goodnight Nelda Grebe, The Telephone Company Has Cut Us Off
, has the Texas horns prominent again, before Powell reminds us that all is not lost. After all,
The Kingdom of Heaven Is Within You
. It's a brilliant closer, moody, spacy late night semi-jazz with muted trumpets and reeds with a gorgeous flute solo and soulful sax.
The album's failure to sell anywhere near the number of copies it deserved to is difficult to comprehend. Play
Mother Earth
and you'll more than likely get the same reaction as just about everybody who's heard that last
you've got to GO back to Mother Earth.
..
Janis, one suspects, would have cracked around that
GO
. Tracy just keeps sliding upwards.
Everyone I've played the track to has been gob-smacked. It's a performance that's right up there with the very best around, and almost nobody knows the album but there are all sorts of possible explanations.
By the time the album appeared on the shelves the San Francisco scene was past its heyday. Other bands had grabbed the spotlight via Monterey Pop and the mainstream media and their careers were off and running long before Mother Earth was signing on the dotted line.
Maybe it would've helped if they'd signed to a major label rather than Mercury.
Other bands seem to have received more publicity for their recordings, though publicity didn't always pay off the way it was supposed to. Take Moby Grape. Five singles off their first album, all released on the same day registered as extreme on the
hip consumer's hype-meter
, but at least the band was heard of...
Even if it was for the wrong reasons.
Part of the problem may have been the need to figure out where to file the album.
Deep Are The Roots
was easy enough to file under Folk or Blues but
Living With The
Animals? Blues? Rock? Psychedelic? R&B?
Assuming you knew of the album's existence, whereabouts in the store were you going to find it?
Tracy's move to Nashville in 1969 certainly didn't help either. Touring in support of
Living With The Animals
she and Travis rented a house there, and she later bought a small farm in the area where she has lived since 1973.
You can guess the Texas element in Mother Earth found Tennessee too similar to the environment they'd run away from years before, and sought out friendlier environments, but most of them stayed long enough to record the second Mother Earth album,
Make A Joyful Noise
, co-produced in Nashville by Rivers and Nelson in 1969. As a side project, she also recorded
Mother Earth Presents Tracy Nelson Country
, coaxing Elvis Presley's Sun-era guitarist Scotty Moore out of retirement to produce and play on her version of Arthur "Big Boy" Crudup's
That's All Right Mama
.
While it's a pleasant enough album,
Make A Joyful Noise
isn't in the same league as its predecessor. There's an R&B
City Side
and a
Country Side
featuring the sort of material you'd associate with Nashville, but the mix doesn't work as well as the
Powell, a couple from Tracy, another Powell, couple more Tracy
formula on
Living With The Animals
.
One big difference is that the Texas horns were gone, as were Naftalin and Rains, but in came Boz Scaggs, who Tracy had known back home in Wisconsin, playing rhythm, and drummer Lonnie Castille, formerly with Archie Bell and The Drells, of
Tighten Up
fame. Another difference is the male vocal foil for Tracy. Powell St John's still there, but most of the guy songs are handled by Ronald Stallings whose voice might have been adequate but it doesn't have the same sort of vocal character that Powell added to his tracks on the first album.
The musical chairs continued as time went by, and when the next Mother Earth album,
Satisfied
, appeared the following year, only Tracy and Toad Andrews were left from the Animals line-up.
If you're interested, over at Wolfgang's Vault (http://concerts.wolfgangsvault.com/dt/mother-earth-concert/325-4895.html) there are glimpses of an earlier (pre-
Living With The Animals
) line-up of Mother Earth, performing between The Flamin' Groovies and Jefferson Airplane on 29/30 September 1967, about a year before the album's release, Most of the tracks were never officially recorded, but the blues, rock and gospel elements in the group's sound show Mother Earth as one of the most diverse sounding Bay Area bands in 1967 with a tinge of psychedelia, but an earthier, more bluesy sound than many of their contemporaries.
The Winterland 29 September 1967 set begins with a harp and organ groove that transmutes into a keyboard/drums jam and meanders through ten and a half minutes of ensemble playing.
Mobile Lill
has a nice groove, harp from Powell and a throaty Nelson vocal.
No Use Crying
is a step back vocally, as Tracy relinquishes the microphone (Wayne Talbert vocal? Doesn't sound like
Living With The Animals
Powell - maybe it's the earmuffs). Ensemble vocals on
Turn Your Truck Around
kick into a nice groove, then Tracy's back for
Without Love (There Is Nothing)
which Mother Earth recorded for the
Revolution
soundtrack. Nice.
Rockin' Pneumonia And the Boogie Woogie Flu
hits another nice groove but fades prematurely, and there's an early two-bloke vocal version of
Living With The Animals
, which starts in progress after the
Rockin' Pneumonia
fade out. The closer,
Help Me Jesus
, gets into a gospel groove, Tracy's vocals over driving drums on the verses with the rest of the band kicking in on the chorus. Nice set. Wish I'd been there to witness it.
The following night's set opens with funky rocker
Turn Your Truck Around
's ensemble vocals, before Wayne Talbert takes the mike for a keyboard-driven take on Mose Allison's
I'm Not Talkin'
. Tracy's vocal showpiece is
Cry On
, not far removed from the album version up to the instrumental break, though the Earthettes backing vocals are, predictably, missing. She's in fine voice again on
Got To Be A Good Man
, with driving drums and surging keyboards pushing the song along. Nice harp in there too.
Powell takes over for
Marvel Group
, the harp, intro giving it an almost left-bank Parisian feel. Obviously a fairly early stage in the song's evolution. He maintains the mike for
Stranger In My Own Home Town
, another song featured on the
Revolution
soundtrack, a fairly straight-ahead blues that deals with Powell's alienation from his hometown in Texas, but steps back to harp duties behind Wayne Talbert's vocals for
Dues To Pay
, a more or less standard slow blues, tastefully played but indistinguishable from a thousand and one other expressions of the same genre.
The short set finishes once again with
Help Me Jesus
, which may or may not be better than the previous night's rendition but underlines the fact that in Nelson's voice Mother Earth had an asset close to unique among the Bay Area bands.
Line-up both nights
Tracy Nelson - vocals, piano
Wayne Talbert - vocals, keyboards
Powell St. John - vocals, harmonica
Ira Main - organ
Jance Garfat - bass
Herbert Tjpas - guitar
George Rains - drums
And, from
Living With The Animals
, In the Top Thousand:
The whole album (bar
It Won't Be Long
).